History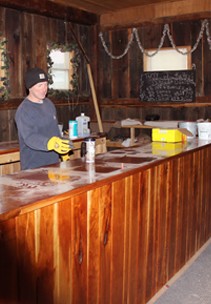 Our story at Stever Hill Vineyards begins with a family farm on the hills above the north shore of the west branch of Keuka Lake.
The Tones family founded Clearview Farms in 1951 to grow corn and hay, and raise dairy cows. The original farm included 10 acres of vineyard. When third generation brothers Harold, Don, and Jim decided to join the family business, it was on one condition: no more cows!
It was 1958 and major Finger Lakes wineries such as Taylor and Widmer were increasing production by tapping local growers to supply grapes. The Tones family added six acres of concord grapes and expanded the vineyard year after year, adding acreage and grapevines to help meet the demands of the growing Finger Lakes wine industry.
Today Clearview Farms manages 1,000 acres of farm and woodland, with 500 acres dedicated to producing thousands of tons of grapes as a supplier to many Finger Lakes wineries. When the former owner of Stever Hill Vineyards, a small local winery operating adjacent to the Clearview vineyards, decided to retire in 2012, the next generation of the Tones family saw an opportunity.
Stever Hill Vineyards now produces about 2,000 cases annually of 20 unique dry, semi-dry, and sweet Finger Lakes wines. Don's daughter and son-in-law, Liz and Jay Sprague, both graduates of California Polytechnic State University's Wine & Viticulture program,  manage the tasting room and winemaking operation. Liz's brother Mike and her cousin Jon operate as vineyard managers on the farm alongside the owners – Harold, Don, and Jim. aka "The Tons Brothers"